Sennheiser MKH 416
Sennheiser MKH 416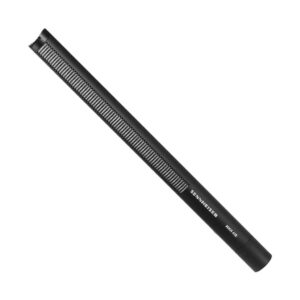 Previous
Next
Sennheiser MKH 416
Directional Studio Microphone
The Sennheiser MKH 416 is a directional studio microphone which is also especially suited to outdoor applications. Its high degree of directivity makes the MKH 416 a superb microphone for film and television, including outside broadcast applications. The microphone operates on the proven RF principle and is designed for 48 V phantom powering.
The MKH 416 is a combination of a pressure gradient transducer and an interference tube microphone. It has a super-cardioid pick-up pattern at low and medium frequencies, whereas at higher frequencies there is a transition to a lobar characteristic. Due to its operating principle, the MKH 416 is relatively insensitive to wind and pop noise and can therefore often be used as a soloist and broadcast microphone, without the need for an additional wind- or popshield. However, for outdoor recordings the use of an additional windshield is recommended.
The frequency response intentionally has a slightly rising characteristic at high frequencies. The microphone has a low
proximity effect and therefore provides a well balanced sound even when used close to the sound source.
The MKH 416 is a short shotgun interference tube microphone. Its excellent directivity and compact design, high consonant articulation and feedback rejection make the MKH 416 a superb all-round microphone for film, radio and television, especially for outside broadcast applications.
Increased directivity due to interference tube principle
Very low inherent self-noise
High sensitivity
Transformer less and fully floating balanced output
Rugged, suitable for adverse climatic conditions
Matt black all-metal body
Specifications
Dimensions: Ø 19 x 250 mm
Frequency response (Microphone): 40 – 20000 Hz
Sensitivity in free field, no load (1kHz): 25 mV/Pa +- 1 dB
Nominal impedance: 25 Ω
Min. terminating impedance: 800 Ω
Equivalent noise level: 13 dB
Equivalent noise level weighted as per CCIR 468-3: 24 dB
Maximum sound pressure level (passive): 130 dB
Current consumption: 2 mA
Voltage: 48 +- 4 V Phantom