MYT Medium Camera Slider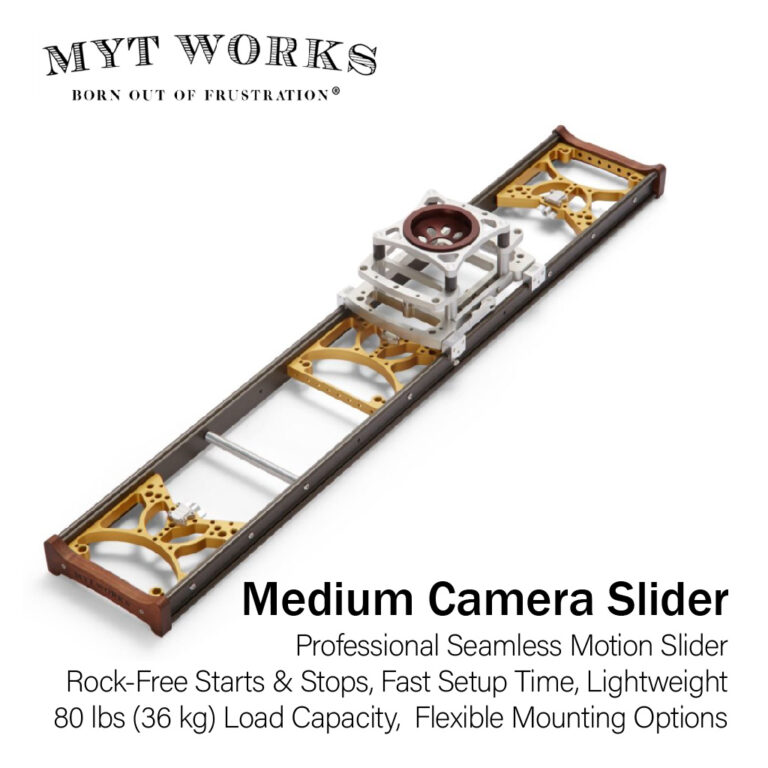 Previous
Next
MYT Works – MEDIUM CAMERA SLIDER
PATENT # US 9494277
MYT Works Medium Camera Sliders are known for smooth motion and perfect starts and stops. High-quality machining allows for consistent performance and damage resistance over years of professional use. Suitable for any camera from a DSLR to a fully loaded Arri Alexa and any camera in between, including popular Black Magic, Canon, Panasonic, RED and Sony cameras. The MYT Works Medium Camera Slider has a load capacity of 80 lbs. (36 kg) and all MYT Works sliders are manufactured and assembled in New York City.
The MYT Works camera sliders are the only sliders designed to handle all camera options and styles — from film & cine cameras to professional large format cameras. Unlike other camera sliders, the MYT Sliders do not require any center support. Numerous mounting options are available to accommodate any and all environments on & off set. Also the wheel bearing modules are designed to forgo the need for lubrication and are machined from the strongest self-lubricating polymer available. Furthermore, the Medium Camera Slider is made of the highest-grade aluminum, brass, and stainless steel milling materials — all corrosion and rust-free.
CAMERA SLIDERS BUILT FOR FILM & CINEMA USE
The quality of motion with MYT's patented hybrid sleeve bearing wheel combination is unsurpassed. It allows for rock-free seamless starts and stops, as well as a continuous motion at all camera movement speeds, functioning as a linear camera stabilizer.
The latch on the camera slider carriage is designed for quick release of the Hi-hat with the camera still mounted on the tripod head. This feature allows operators to either continue shooting in Hi-hat mode, in dolly mode, or in setting the camera down while repositioning the slider for another setup. Structurally, our slider can handle extreme temperatures and the most severe adverse shooting / filming conditions.
The 3-in-1 capability extends to the MYT camera skater dolly, enabling a seamless transition from one to another. Both our camera slider and skater dolly carriage platforms have a 5.25-inch square spacing insert profile, allowing the Hi-hat to be lifted from the camera slider and instantly mounted on the skater dolly. All MYT's accessories work for production film (cine) camera sliders and skater dollies.
CAMERA SLIDER ANATOMY
The only film slider system available today with the following characteristics 
• Each part is milled out of a single block of aluminum
• Edges are optimally chamfered for comfortable grip
• All components are rust-free
• Modular design allows for replacement of every single part
• Only stainless still bolts
• Each system is machined,  hand assembled and tested in-house
• Numerous milled pockets in every part for weight optimization

https://youtu.be/HUUhY5u6In8https://youtu.be/D0lLH9qqoiU
MYT Works – MEDIUM CAMERA SLIDER 
Camera Head Compatibility – Flat Mount, 75/100/150mm Ball, Mitchell Mount
Load Capacity – 80 lbs (36 kg)
Carriage Travel – 25″ – 136″ (660 – 3454 mm)
Rail Diameter – 0/4″ (10 mm)
Rail Span – 7″ (178 mm)
Rail Profile – Dual
System Weight – 13lbs – 34 lbs (5.8 kg – 15.5kg)
Hi-Hat Compability – Medium/Large (5.25″)
Hi-Hat Weight – 1lb – 2lbs (.3kg – 1.1kg)
Thread Sizes – Various 1/4″ – 20, 3/8″ -16, and 1/2″-13 threads available
CARRIAGE
The slider carriage anchors to the rails with sleeved bearing blocks and glides using a hybrid rolling-sliding mechanism. Attach and secure a MYT Works Hi-Hat with the use of a quick-release latch or affix accessories to the carriage's industry-standard threaded through-holes.
MYT HI-HAT
Hi-Hats, used for mounting your camera to the carriage of camera sliders, are comprised of modular components including a mount, tray, handle bracket, and four rods. The camera mount can be quickly changed between 75/100/150mm doughnuts, and a Mitchell mount.
HYBRID ROLLING SLIDING BEARINGS
The hybrid sleeve and wheel design achieves smooth, damped motion and precision control along camera slider rails. The rolling element reduces the amount of force needed to make a move while the sliding element keeps the camera's inertia under control, preventing overshoot and backlash.
HI-HAT QUICK RELEASE LATCH
Easily secure and release the Hi-Hat from the Camera Slider and Rover Dolly using our single-lever latch. A single thumbscrew located on the inside of the carriage adjusts latch pressure. If additional security is required, operators may also screw the Hi-Hat to the carriage using a set of MYT Works SRP Locking Bolts.
DIVERSE MOUNTING OPTIONS
Baby Feet, ⅝" Pins, 19mm Legs (with Rosette Caps), Tripod Camera Slider (with Truss-to-Tripod Adapter), Baby or Junior Stand (with Jr./Baby Stand Adapter), & various grip alternatives
STUD CAPS WITH LOCKING WINGNUTS
Prevent any 5/8″ stud, including light stands, from hitting the carriage with the stud caps located on each of the three static plates. Use the lateral wing nut to secure the dolly to the stud.